Online Bank Account: Hope for the Best Account
Your online Banking, Hope for the Best Account
Online Bank account to be talk, Let's go to tell my own(it's you) story. For a long time when I search ib Google for stock market analysis than I saw some advertisement by site about Forex trading. But on that time I don't anything. Then find out what is that. One day I realize what it is. I go to demo particles. It go huge profit ( by know stock market knowledge) and think wow this is good and get me one day huge profit, so why not I am here. Than want to go for real trade account. But……………………ha! Ha! I have no online Bank account. My dream on that moment TUSSSS…DUM!!!!!
Than go to search which bank account are reliable, are they real or how can I open blab blab…….
There is huge type of online banking organization where they play role different kind of activities. But I found that kind of Bank who are support all kind of function about forex. So I take a paper and think what I need. I wrote that I need
Input money in my bank or Deposit money
Transfer money to broker
Transfer Broker to Bank by easy way
Bank to my hand or Get money from my pocket in easy way.
Also need charge cost low.
Other things benefit (Bonus)
Then I found NETELLER account is one of the best online bank which support all kind of Forex broker. So I decided to open my bank account in NETELLER.
Opening a NETELLER account is one of the easiest things to do. Within one minute you can have your account up and running and sending money to your favourites gambling websites.To make sure you are not making any error we have a short tutorial to open your NETELLER account correctly!
To Open Your Bank Account you must follow the below Step
And With that First you click Here to GO THE SITE OR CLICK HERE.
To keep your NETELLER login and email address seperate from your Facebook account. NETELLER is a financial product and it's wise to not connect this to your Facebook details.
Fill in the email address you primary use and choose your Country of Residence. Next step is to choose the currency of your wallet. You need to choose this wisely, as it can't be changed afterwards!
If your gambling, playing poker and bingo sites are in your home currency, it's best to use your home currency.
If these currencies are not the same (for example: all your casinos are played in Euros and your home currency is Danish Krone), it's best to choose the currency of the gambling site. If you don't do this you will be paying a 2,95% fee for each transaction!
Fill in all details correctly and double check that you make no typos.
When details are not correct (wrong date of birth, wrong address etc.) you will come in a process of correcting these details afterwards by phone! Don't forget to write down your password and the answers to all of the three questions.
Furthermore it's wise to use a password that is different from any other password that you are using online.
After clicking Continue a Popup window will show that asks you again to write down the 3 answers that you have filled in.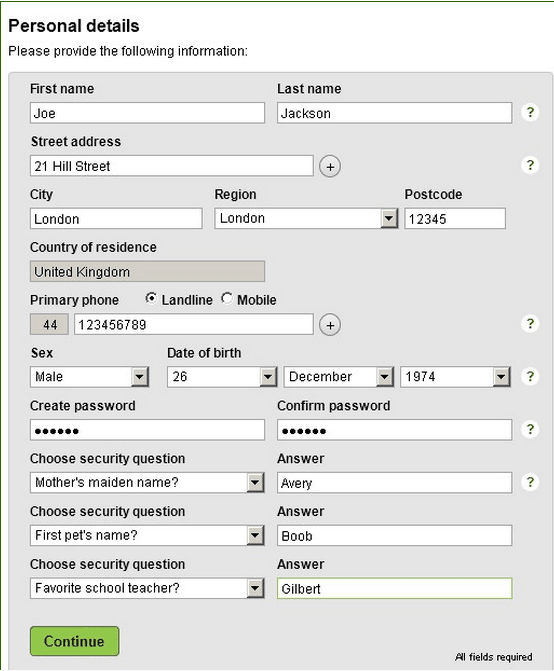 You are done creating your NETELLER account!
You will be given a NETELLER Account ID which is your unique ID to make transactions to your favorite gambling websites. You will also get a unique Secure ID, which is a 6 digit number and combined with your NETELLER Account ID and chosen password gives you secure access to your account.
The NETELLER Account will be unverified, meaning you have limits on the amount of transactions you can make, max balance etc etc. The process of getting your account is verified is very easy and enables you to apply for a Net+ Mastercard which is a prepaid MasterCard which can be used at almost all stores, online shops or just getting money out of the ATM!
Click on UNVERIFIED to be able to upload you passport to verify your NETELLER account with higher limits and Net+ Card. A passport or drivers license is all you need to upload. Within 1 working you will be notified regarding the verification of your account.
Don't worry about sending in these official documents, as NETELLER is a highly professional company with a long reputation of being really trustworthy!
After your account is correctly verified, it's about time to get some money into your NETELLER Account. For each and every country lot's of options are available to fund your account:
iDeal bank transfer (instant funding, only Netherlands)
funding by prepaid vouchers like UKash or PaysafeCard (costs you a small fee)
Now you are completely ready to enjoy your new NETELLER account And HaPpY TrAdInG with Forex.