MetaTrader 4
The Most Popular Forex Trading Platform.
________________________

This platform offers you:

☛ Flexible trading system.
☛ Advanced technical analysis.
☛ Signals and Market additional services.
☛ Algorithmic trading, and Expert Advisors.
☛ Copy trades of other traders.
☛ Mobile trading applications & Lots more … …

Download Platform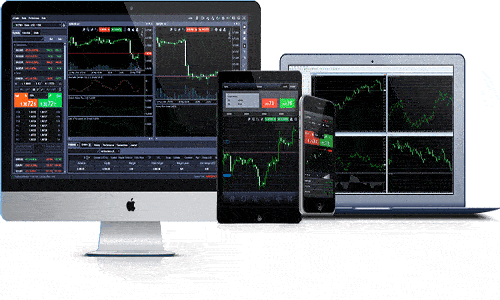 Meet Our MT4 Trading Platform
WHAT IS METATRADE 4?
MetaTrader 4 is a platform for trading Forex, analyzing financial markets, and using Expert Advisors.
Mobile trading, Trading Signals, and the Market are the integral parts of MetaTrader 4 that
enhance your Forex trading experience. Right now millions of traders with a wide
range of needs choose MetaTrader 4 to trade in the market.
Features
The Features of MetaTrade 4
________________________________________________________________________________________________________________________
The MetaTrader 4 Trading System
The powerful MetaTrader 4 trading system allows you to implement strategies of any complexity. The Market and pending orders, Instant Execution, and trading from chart stop orders and trailing stop, a tick chart, and trading history — all these tools are at your disposal.
---
The MetaTrader Market
The built-in Market is the best place to find an Expert Advisor or the newest technical indicator. Buy any of the hundreds of trading robots or indicators and launch them without leaving the platform. The purchase is simple, transparent, and secure. The most popular features are >> The widest selection of trading applications in the world. >> 1 700+ trading robots and 2 100+ technical indicators. >> Free and commercial products.
The MetaTrader 4 Analytics
Online quotes and interactive charts with 9 periods allow to examine quotes in all the details quickly responding to any price changes. 23 analytical objects and 30 built-in technical indicators greatly simplify this task. The free CodeBase and built-in Market provide thousands of additional indicators rising the number of analytical options up to the sky.
---
Algorithmic Trading
Almost any trading strategy can be formalized and implemented as an Expert Advisor so that it automatically does all the work for you. A trading robot can control both trading and analytics freeing you from the routine market analysis. MetaTrader 4 provides the full-fledged environment for the development, testing, and optimizing of algorithmic/automated trading programs. You can use your own application in trading, post it in the free code library or sell in the Market.
Trading Signals And Copy Trading
No time for trading? That is not a problem, since MetaTrader 4 can automatically copy deals of other traders. Select your provider, subscribe to a signal, and let your terminal copy the provider's trades. Thousands of free and paid signals with various profitability and risk levels working on demo and real accounts are at your fingertips.
---
Mobile Trading
Smartphones and tablets are indispensable in trading when you are away from your computer. Use the mobile versions of MetaTrader 4 on your iPhone/iPad and Android devices to trade in the financial markets. You will certainly appreciate the functionality of the mobile trading platforms that include the full support for the trading functions, broad analytical capabilities with technical indicators, and other graphical objects. Of course, all these features are available from anywhere in the world 24 hours a day.
Especial Features: Alerts & Financial News
>> Current financial information >> Timely notification >> Different market conditions
The latest financial news allows you to prepare for unexpected price movements and make the right trading decisions.
Alerts inform you about certain events, so that you can take appropriate measures.
Download MetaTrader 4 Platform
1. Choose your device from the sidebar.
2. Click the icon to download the MT4.
3. Select the MetaTrader 4 & Click 'install'.
4. Open the MT4 & sign in to your account.
Metadata is automatically in build into the mt4 platform. When you install MetaTrader 4, the platform automatically loading the data by itself.
Considered the gold standard among trading platforms, MetaTrader 4 is a free platform for trading forex and other financial instruments such as CFDs, futures, indices, commodities, and cryptocurrencies.
1. Download MT4 Platform and install it.
2. Run the MetaTrader 4 Platform.
3. Enter personal details. Click on "File" of the main menu.
4. Select trading servers. Select the appropriate demo server and press "Next". 5. Registration.
1. Visit your broker's site and in the account section, find and select the live trading option.
2. Select 'MetaTrader 4' from the platform selection.
3. Choose a trading account type with the conditions best suited to your trading needs.
4 . Read and accept the broker's terms, conditions, and risk disclosures.
Yes, Download MetaTrader 4 for PC to receive the most powerful and convenient tool for technical analysis and trading in the markets. During the first launch, you will be prompted to open a free demo account allowing you to test all the features of the trading platform.
Yes, both MetaTrader4 and MetaTrader5 platforms are compatible with Windows 10 (operational system).
【 More About MetaTrader 4 ⋡
What does MetaTrader 4 do?
MetaTrader 4 is a flexible trading system that offers advanced tools of technical analysis, Trading Signals, a Market of trading robots, mobile, and algorithmic trading and much more. Use all these features for success in your Forex trading!

Is MetaTrader 4 regulated?
MT4 Forex brokers are regulated by the most varied list of regulatory organizations from across the world. From the US to Asia, MT4 is adopted by a majority of brokers, which ensures that MT4 has the largest exposure regarding regulation and geographic diversity.

Who owns MetaTrader 4?
MetaTrader 4 is a trading software where the licenses are owned by Metaquotes Software Corporation.

Why do traders use MetaTrader 4?
MetaTrader 4 is software that can be used by both traders and investors to open, close, and manage market positions through the use of a financial mediator. You can use MetaTrader 4 to perform advanced trading operations while also analyzing the financial markets.
Is MetaTrader 4 good for trading?
MetaTrader4 is the most popular platform. The MetaTrader 4 (MT4) is by far the most popular platform for forex retail traders. More than 95% of the forex brokers offer this platform on their websites. It is one of the most complete trading platforms out there with many features, indicators, etc.
Why is MetaTrader 4 so popular?
Server stability: The MT4 server is a lot more advanced than the previous version and the rest of the competition. It can support tens of thousands of trades simultaneously. Minimal resources: The MT4 uses very little resources from your computer and it works well, even with low internet bandwidth.
Should I use MetaTrader 4?
Yes, you should. It is most commonly associated with forex trading, MetaTrader 4 can be used to trade a range of markets including forex, indices, and commodities, via CFDs or spread betting. MT4 is extremely popular due to the fact that it is highly customizable to your individual trading preferences.

Is MetaTrader 4 demo real time?
Yes, MT4 demo accounts are real-time, with no delays. Mt4 is a good platform that can program your own indicators with a lot of ideas & logic, and a lot of brokers use it.

Is MetaTrader only for Forex?
No, it also gives access to Other Markets. But Metatrader was built to primarily be a Forex platform and only allow traders to see the trading instruments that are available from each broker. MT4 was specifically built for forex traders, whereas MT5 was designed to provide traders with access to CFDs, stocks, and futures.
Can I use MetaTrader 4 for stocks?
You can trade stocks anywhere in the world using the MetaTrader 5 Mobile platform. Download MetaTrader 5 Mobile for free and start trading right now! MetaTrader 5 supports algorithmic trading, which implies trading on exchange markets by a preset algorithm using automated trading robots.
How does MetaTrader 4 make money?
It is pretty simple: You place a web link/widget to the MetaTrader Market application or a trading signal on any website. A user clicks your weblink and buys that application or subscribes to the trading signals. The profit share set by the application's seller or the signals provider is transferred to your account.
Can I Use MetaTrader 4 without a broker?
No, you can't. MetaTrader 4 is a third-party trading platform that connects to a broker for forex trading.
Is MetaTrader 4 a broker?
No, MetaTrader 4 is the most popular third-party trading platform that connects to a broker for trading forex.
What is the minimum deposit for MetaTrader 4?
It depends on you. You start trading a minimum deposit of $5. On the other hand, some brokers allow investing a minimum of $1.
How do I speed up my MT4 platform?
For Optimizing MT4 platform Performance, Click Tools > Options > Charts and then find "Max bars", located in the chart field. Now Decrease this value by at least 50%. If the performance still lags, keep decreasing the value until it becomes smooth.
Why is my MetaTrader 4 frozen?
MT4 usually freezes when it is trying to run too many processes all at once. It freezes too quickly because you can't remove the indicator from the chart. For that, close MT4 and go into the folder containing the robot or indicator and delete it from the folder and re-open MT4.
Why does MetaTrader 4 say not enough money?
MT4 "Not enough money" error means that the trader is trying to place a new trade, and his account doesn't have enough money to cover the margin requirement. That means the free margin is less than the required margin for the new trade. The trader needs to increase leverage or to add more money into the account.
Which is better MetaTrader 4 or MetaTrader 5?
MT4 is designed for CFD forex instruments, whereas MT5 is an all-in-one state-of-the-art multi-asset trading platform, covering both centralized and non-centralized financial markets, including, stocks, futures, and FX trading instruments. MT5 is faster and more efficient than MT4.
What Are You Waiting For?
Right now you need to use Forex Indicator.

Forex Indicator ➜
---
Abdullah ibn Hanjalah related that the Prophet said:
"A dirham of Riba (interest) knowingly taken by a man is a sin worse than
committing Zina (fornication) 36 times (Ahmad, Daraqutni)".
---